Guide To Yahoo! Japan in 2021
Established in 1996, Yahoo! Japan, an offshoot of the popular English-language search engine, controls around a third of the search engine market share in Japan. It was set up a year after Yahoo! was established in the United States when Masayoshi Son, the CEO of a multinational telecommunications company, Softbank, invested in its development. The company expanded quickly in its early years due to the innovation and development of hardware products with a notable increase in users as it was the default search engine on most mobile phone browsers. However, its popularity did not last long as competitors quickly began to see the opportunities opening up in the Japanese market.

Google, the world's most popular search engine, arrived in Japan in the early 90s and had a massive impact on the country's search engine market. Its simple design and advanced algorithm has made it the gold standard for search engines around the world so in 2010, instead of attempting to compete, Yahoo! Japan decided to implement Google's algorithm within its own search functionality. This enabled users to access more effective organic search results and according to their webpage, Yahoo! Japan now has around 70 billion page views per month, and is the second largest search engine in Japan, after Google (for desktops, tablets and mobile search engines), although its share in the market has been slowly decreasing over the last decade.
Designing an SEO Strategy in Japan will have an impact both in Google and Yahoo! but the Search Engine has some particularities that we should care about:
Yahoo Japan Features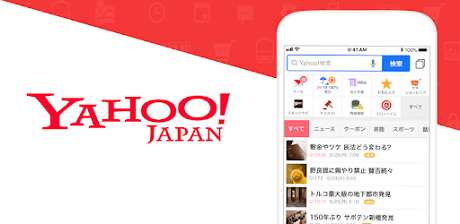 Search engine results page:
As Yahoo! Japan uses the same algorithm as Google, the first few pages of search results on both search engines usually look pretty much identical. The application of Google's advanced technology has created an anti-competitive market that offers users the same experience. There are a few differences, however, such as the layout of the search results page, as Yahoo! Japan often adds its own unique content, providing more ways for businesses to find opportunities for visibility in search results. Like Google, each page of results only provides ten or fewer organic search results to improve speed by making a landing page's loading speed as fast as possible.
Knowledge panels:
These are panels placed within search results to provide an outline of information – usually scraped from the top-ranked pages – related to a search topic, from basic information about a restaurant or attraction (prices, opening times, address, etc) to a summary of a movie or television programme. This is another feature that is common to both Yahoo! Japan and Google, creating a more interesting and effective user experience than a basic list of links to websites.
SEO and Advertising in Yahoo! Japan 2021
As Yahoo! Japan commands a large share of the market, it is still a highly valuable search engine for marketing and advertising. In some industries, it still accounts for around forty to fifty percent of a site's overall organic search traffic. As they use the same algorithm, search engine optimization tactics for Yahoo! Japan and Google are pretty much identical. It's most important to focus on providing high-quality content and make sure that you understand how click-through rates work. Remember that localization is more than just translation; Japanese consumers often expect to see a lot more on the page in terms of text and images than users in some other countries, and images and videos should be targeted to the Japanese market. It's also useful to remember that Japanese customers prioritize quality and brand recognition over value and affordability, and that many Japanese consumers will expect content to be optimized for mobile as well as desktop.

Tough the experience may sometimes differ between the two search engines. For example, where Google often scrapes information from sources such as Wikipedia, Yahoo! Japan may offer videos from influential sources such as YouTube, when a user is looking for information about a movie.

Even though Yahoo! Japan uses Google's algorithm, Google ads do not appear on the search engine's pages or its content, and Yahoo.com adverts will not show up on Yahoo! Japan, even if Japan is selected as a target country, as the three companies are still distinct entities and wholly separate. Businesses need to set up an account with Yahoo! Japan in order to run advertisements on the platform. It offers a fairly typical range of adverts with a choice between promotional and premium adverts, much like Google offers. Promotional adverts, also known as pay-per-click (PPC) adverts are triggered by users' actions. They are divided into two types: sponsored search ads (text-based ads that are displayed to users who search using related keywords) and Yahoo! Japan Display Ad Network (YDN) ads (image-based ads that are displayed to users who are interested in a specific company's products or services). Both types of advert can be displayed on search engine results pages and partner websites. Premium adverts are impression-based and use graphical or rich media units that are designed to stick in a user's memory. They show up through the Yahoo! Japan network and are targeted based on a user's geographical area, demographic and behaviour, among other metrics.