How to Put your Business on Wikipedia
Why you should have a Wikipedia page?
Having your company included on Wikipedia can instantly help you to obtain a better online reputation, get higher exposure in search engines, and improve your business' credibility. It could also be a very effective way to convince potential customers into buying or hiring your services. Until here everything looks good, right?
The problem is, creating a Wikipedia page is quite difficult. Although an article on the most famous encyclopedia can boost your Digital Marketing efforts quite effectively, surpassing the strict regulations is quite draining, especially for new editors. I am here to help you create it and make it last.
How to Create a Wikipedia page for your business
First Considerations
First of all, your business must be notable. There is no amount of editing you can do to publish a company that is not relevant. To meet Wikipedia's expectations, the company must be well known for its product, services, or innovations. I recommend you to check Wikipedia guidelines for notability.
Another critical thing about Wikipedia is citations. Without them, your article will be deleted as soon as it is found. The references you use should be genuine and credible, taken from reputable sources such as news sites (The New York Times, The Washington Post), national media outlets (Bloomberg), researches, and books. You should not include references from PR firms or Wikipedia Itself.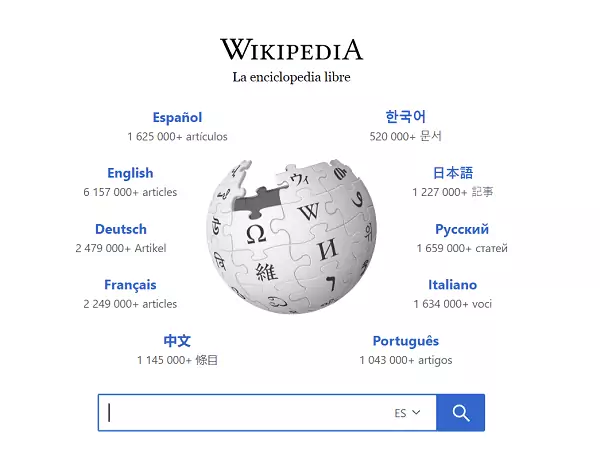 You still need to ask yourself one last thing. Are you ready to accept not so favourable information about your business? Once your article is live, anyone can edit your business page and add information (when referenced).
All that being said, is the moment to start getting into the business.
Create an account
An obvious one, right? You can contribute to Wikipedia without having an account, but creating one is safer and gives you more credibility. You can make your account by clicking on the "create account" button in the top right corner.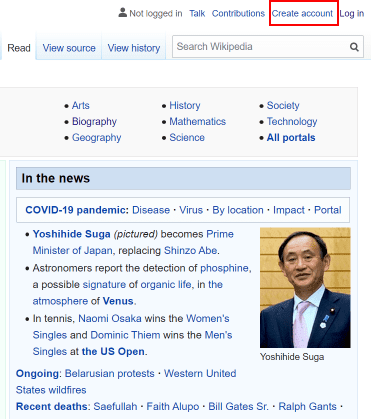 Start with small edits
Before creating your first article you need to have a 4-day old account and have contributed with 10 edits. Make the most of this time to get used to Wikipedia's environment and explore some interesting topics. Watching what others have done might help you to get inspiration to your project and organize your ideas according to Wikipedia's Standards.
To start editing a page, find the button "Edit this page" at the top. There are also links in each section to edit small parts of the text.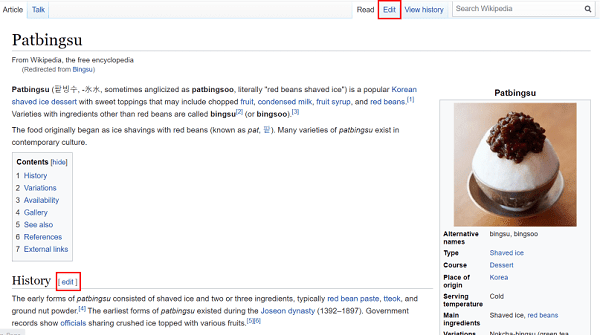 Practice in the Sandbox
Another great way to practice before publishing your article is the Sandbox. According to Wikipedia, "Sandboxes are pages designed for testing and experimenting with wiki syntax and the Visual Editor". Whatever you publish here will not reach the mainspace, so don't be scared of trying templates and restructuring your text. It would also be interesting to get familiar with the Wikipedia Manual of Style, so your new creation will start looking wikilike.
Write your Article
Write the name of your company in the search box. If you are reading this, chances are you don't have an article for your company yet, so the search results will give back to you the following answer:
You may create the page "Name Of your Company", but consider checking the search results below to see whether the topic is already covered.

Then click on the name of your company and start creating the page. Follow the Manual of Style, including references and citations to support your text and BE NEUTRAL. I can't address this enough. If your article sounds self-promoting, I can promise, will go to Speedy Deletion under the tag "Unambiguous advertising or promotion". And well, we don't want that.
But I agree that writing about your own business from a neutral point of view can be tricky. You are too invested in your project to see what might be interesting or relevant from a reader's point of view. And that is why hiring an editor could be a great decision.
Time To Publish!
When you are done, hit the publish button. My advice at this point would be, never submit the article to the " articles for creation" process. This is more meant to be a roadblock for new editors than genuine help. The process can delay for weeks (or months!) and even if your "peer" considers it worthy, once the article reaches the mainspace, any user can recommend it for deletion anyway.
To make it clear: You don't need to get an "approval" from Wikipedia when creating your company's page.
An approval on "articles for creation" gives you a false sense of security that your article won't be deleted, but no one can prove to you that. Wikipedia is a collaborative project, and therefore, decisions are made on consensus. This means that anyone in the community can review, edit and recommend for deletion anytime.
In Conclusion
Creating a Wikipedia article for your business is surely a great boost for your company. However, it is a tricky process and takes a lot of effort. You need to get used to the environment and write about it in an objective unbiased way. Plus, not all companies meet the Notability Guidelines or have enough media coverage.
If you still think that your company is Wiki-worthy but you are indecisive about publishing an article, do not hesitate to contact InterAd professionals for a second opinion. We can help you with the edition and publication of your article to get your business on Wikipedia in a hassle-free way.