Selvas AI Case Summary
Background
SELVAS AI is an artificial intelligence(AI) company that does AI-related businesses in diverse fields including health care, automobiles and assistive technology on the basis of machine learning techniques. It possesses core AI technologies such as voice recognition, handwriting and image intelligence and AI convergence technology which combines those core technologies. All the technologies of SELVAS AI are based on the machine learning platform. InterAd has worked many years with Selvas AI both in B2B SEO for the South Korean search engine market and Global digital Market.
Strategy
InterAd worked for hand by hand with SelvasAI for over 2 years to improve their visibility in the Google NAVER Search Engine Result Page(SERP). The services we provided during that time included a full SEO Audit, Search Engine Optimization(SEO) consulting, Technical SEO support to improve the AI-Based platform (Speech recognition, Speech to Text) and an extensive Google Ads campaign.
Results
After removing all their low-quality pages and replacing them for SEO-friendly content, data-driven SEO, Selvas AI now has a higher share of search results for their own brand name vs. their competitors, as well as a 420% increase in organic traffics.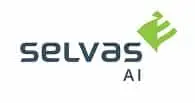 About The Client
Machine learning and AI-based software solution company, Medical Prediction, Speech Recognition, Speech Synthesis, Handwriting Recognition, Optical Recognition, Pen and Drawing solution.
Headquarters
Seoul. Korea
Industry
Artificial Intelligence
Services Rendered
Machine Learning, Artificial Intelligence, Speech Recognition, Speech Synthesis, Smart Healthcare