Consumer interests and lifestyles have changed significantly over the past year due to the pandemic, and the changes are still ongoing as of 2021. This has affected different areas of consumers' daily life, such as the way they do their grocery shopping, and the way people interact with each other.
In Korea, where YouTube is the preferred social media channel and video platform, the pandemic had also a strong impact on the way people consume content.
YouTube is not anymore a platform to entertain the audience but a platform that consumers trust as a source of information. There are endless opportunities to reach consumers within online video, and the platform expects to grow the influence the buyer's journey across generations.

YouTube is perceived as a shopping platform
YouTube has become a place where consumers search for reviews and information about products, serving as a platform to convince consumers of their purchase decisions. According to a survey made by Google Korea, YouTube takes up to 48% of the market share when it comes to looking for information about specific products, brands, and services.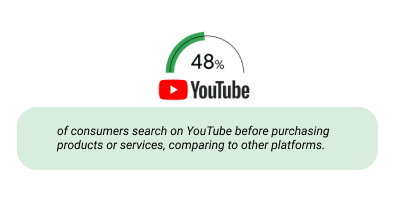 Different opinions depending on consumers generation
Consumers of all ages go to YouTube to get information about products before purchasing them, but according to the survey the reasons vary depending on the generation they were born.
Gen Z consumers highlighted that the detailed information and spontaneity provided by video creators are the main advantages of the platform, compared with other generations.
Millennials are more interested in usability and watching how they can integrate the products into their lifestyle.
For Baby Boomers, however, is the possibility of getting information created by professionals.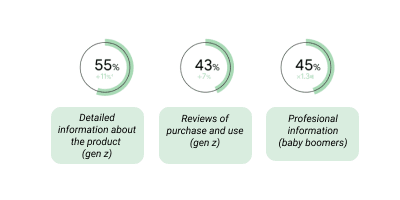 In a focus group interview made among Youtube users, a Gen Z said "I can learn more about products and services through YouTube videos", while a millennial affirmed "because I watch a lot of knitting channels, I see cases where brands and creators collaborate. Then I wonder if using the same product I will be able to make the same things as the YouTuber made, so when it comes the time to buy a new product, I want to try the same brand".
Driving sales through content
Content creators in YouTube know that understanding customers' needs and delivering the right message is key to drive sales. Promoting brands that the creators really trust and delivering the message in original and trendy ways resonates the most with millennial and Gen Z generations.
I've seen a tumblr commercial. The creator made ASMR content with a tumbrl. And while I was watching it I started to think, "the sound is so good and I like how it feels, i think I want to buy it".
Conclusion
In 2021, the impact that YouTube has on the consumer's buying journey is stronger than ever. Consumers' lifestyles have changed significantly since the pandemic and the opportunities to drive sales by collaborating with video creators are on the rise.