Why Should your Company invest in Naver Advertising?
Because of the many testimonials we have received from our clients, in InterAd we know that Advertising on Naver as a foreign company is challenging. Especially to those who are used to more intuitive and flexible platforms, such as Google Ads. However, Naver Search Portal dominates the Search Engine Market Share in Korea, and it is the preferred choice for 62.81% of Korean internet users. When it comes to the paid search, 63.23% of the paid traffic in the country is brought by a Naver product (Search Ads, Shopping ads, Brand Search…)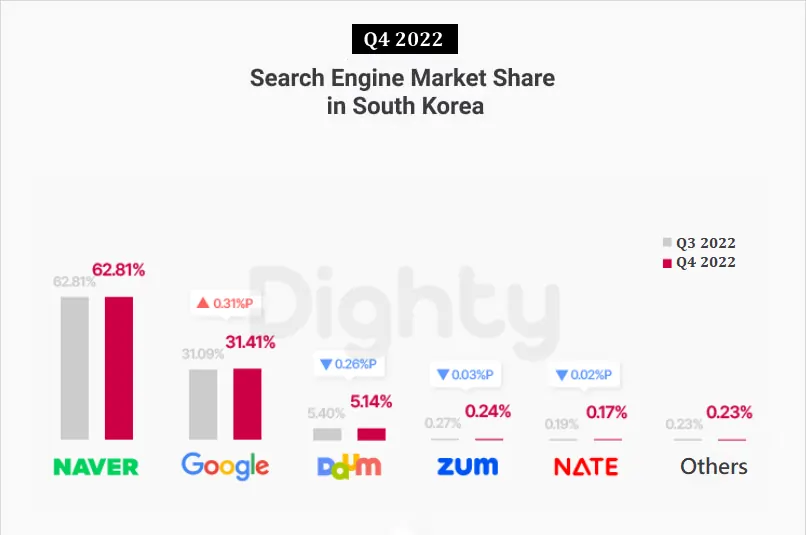 (Source: https://blog.dighty.com/)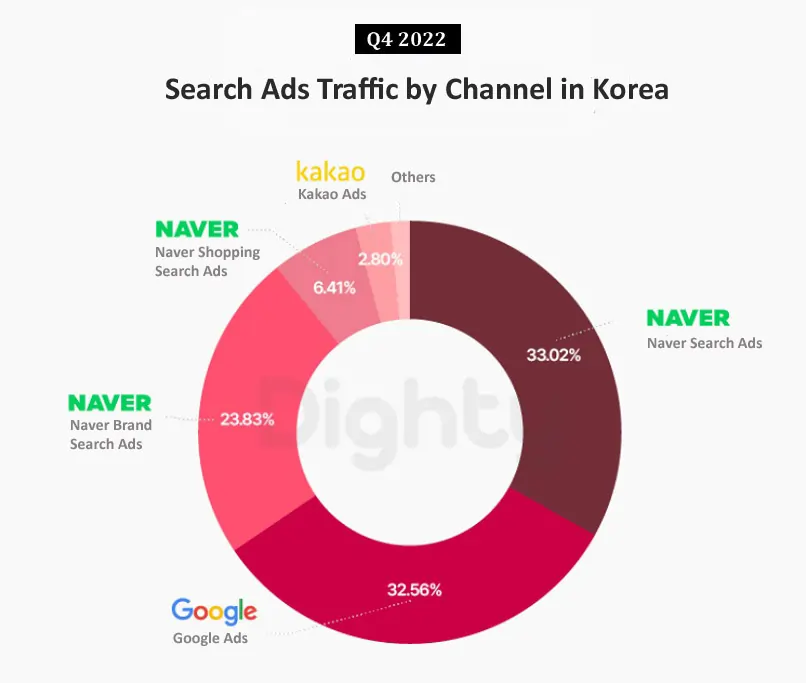 (Source: https://blog.dighty.com/)
Truth be told, not being present on the platform can result in missed business opportunities. Naver has been around since 1999 and internet users usually trust the platform for news, information, and goods recommendations. However, getting visibility in Naver SERP is HARD. Naver algorithm favors their own products, and, especially, Naver Ads. The 10 first to 15 results are almost exclusively reserved for those blue links that we, online marketers, know so well. This is another reason you should start your Naver Ads Campaign. There is no better way to ensure visibility for your business.
About Opening a Naver Ad Account
Before opening a Naver Ads Account you need to know that the process would be much smoother if you have a business license in South Korea. But, if this is not your case, don't worry, you can contact us for more information. Naver has some limitations that can be frustrating at first. The first one is that is not easy to set up an account without external support. Your website must be inspected by Naver staff and there is some paperwork to be done. Moreover, you can't advertise different websites with one account, so you will have to create multiple accounts if you have more than one business.
After that being said, you can try to open your own Naver Ad Account at this link. After the joining process, you will be able to access the advertising platform and create a campaign.
Types of Ad Formats
Naver Power Link
This is the name of the Naver SERP section where most blue link ads (PPC) are found. Typically Naver shows up to 10 results, including title, description, image, and extensions. This type of Search Ad is the most eye-catching since they dominate the top of the result page. The ranking of your ads will be decided depending on your keyword bids and the quality score of your ad. Naver CPC can get pricey compared to Google in highly competitive industries, but you can start bidding on your keywords starting from 70 Wons (around 0,054 dollars).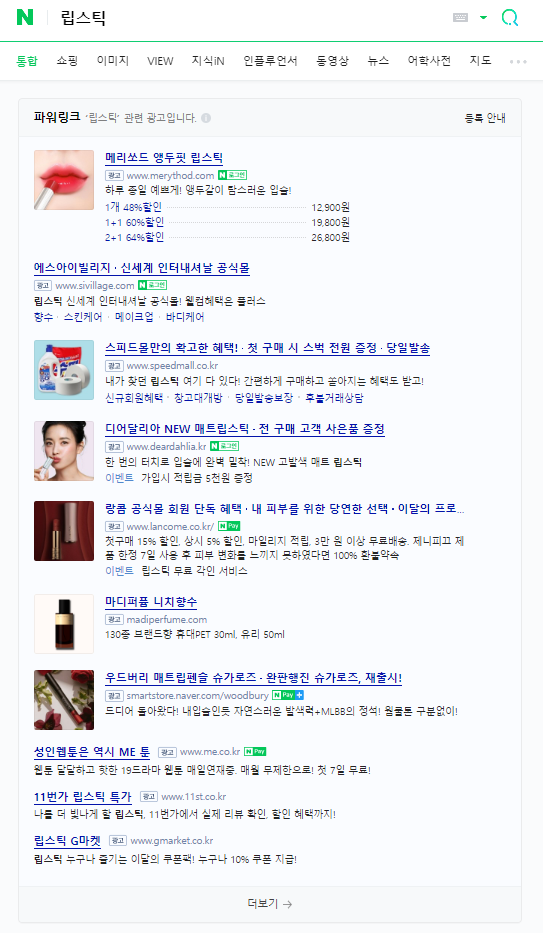 [Images: Naver Search Results] 
Biz Site
This section appears on the SERP for highly competitive keywords. Shows 5 additional search ads and there is no real difference with the Powerlink section. It exists just because.
Brand Search Ads
Best for brand awareness, this type of banner ad is displayed every time someone writes a query with your brand name, or a keyword closely associated with it. One thing to consider is that the minimum amount that you can use to advertise per month is 500.000 Korean wons (around 390 USD). This price will cover up to 8,000 impressions. If your company brand name has a higher search volume, you will have to consider the next price range. Naver Brand Search Ads can get pricy, especially if your brand search volume falls on the lower end of the range. It is mostly used by conglomerates and big companies, and for branding purposes.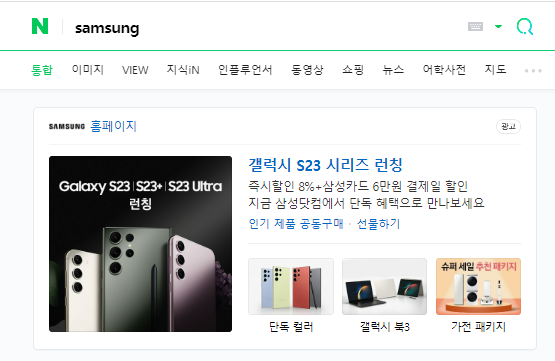 Naver Power Content Ads
This type of ad is in the VIEW section of the SERP and boosts blog posts created in the advertiser Naver Blog for the selected keywords. To promote a blog post, the advertiser first needs an operating Naver Blog account and populate it with content. This service is targeted at people who want to:
Promote inspirational or informative content about their product or services (including pictures, reviews, tips, characteristics, case studies, etc.)
Promote a product or service if you don't have a website or if your website is not translated into Korean yet.
Get more visibility on Naver SERP.
Create an integral campaign on Naver (SoV).
Display Ads
Naver Display Ads have significant differences compared to their Google counterpart. There are several types of banner ads and they have different pricing depending on the level of exposition to the Search portal users.
Timeboard
Branding DA
Branding DA (Video)
Smart Channel DA
Naver GFA
We have found that for foreign companies the most interesting format usually is Naver GFA, which is a performance-type advertisement similar to Google Display Ads. Most of the other formats' payment models are based on the number of impressions or time.
Shopping Search Ads
Being listed in the Naver Shopping section is quite crucial if you are selling consumer goods in Korea. To rank high on Naver Shopping can get quite tricky for newcomers since their algorithm is biased by the number of purchases. That is why Shopping ads are highly recommended for any business that has a Smart Store or similar.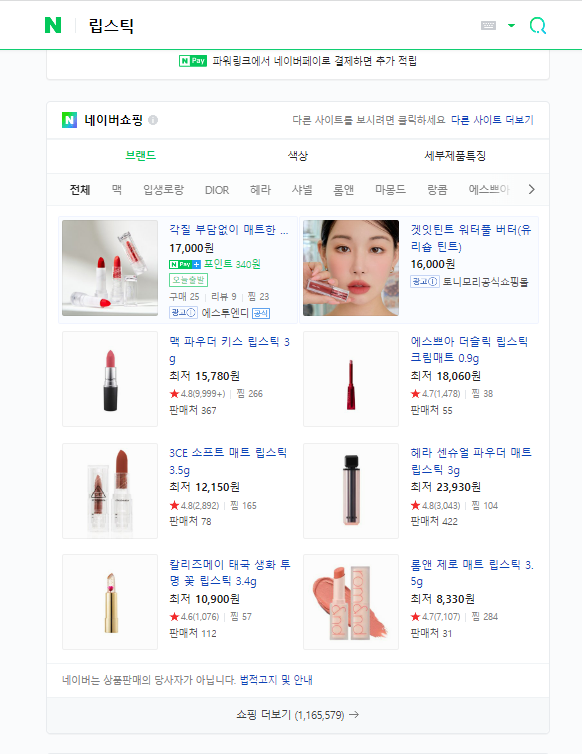 How to Do Keyword Research on Naver
Today, there are many Keyword tools that support Korean (for example, SEMrush) but is still interesting to do your keyword research on Naver Ads Tool for better accuracy on estimate impressions and costs. It's important to note that the Naver Ads tool is primarily in Korean, so it may be helpful to have a basic understanding of the language or to use a translator tool to navigate the website.
To do keyword research on Naver Ads tool, follow the below steps:
Step 1: Visit the Naver Ads tool website at https://searchad.naver.com/. Once there, click on the "Keyword Planning" tab located at the top of the page.
Step 2: Next, enter the keyword or phrase you want to research in the search box provided. You can also choose the location and language of your target audience. Then, click on the "Search" button to retrieve the results.
Step 3: Once the results are displayed, you can view the keyword ideas, their search volume, competition, and other metrics. You can also filter the results by various parameters like keyword type, competition level, etc.
Step 4: Analyze the data and select the most relevant keywords for your campaign. You can add them to your campaign by clicking on the "Add" button next to the keyword.
If you are looking to start advertising on Naver but find yourself lost in the process do not hesitate to contact us for Naver Ads Account Opening or Naver Ads Management.
Check our Naver Ads Service Brochure: Download Catalog
Korean Web Content Accessibility Guidelines : Download PDF