Naver SEO: How to Rank in Korea
NAVER( [nei·br] Hangul: 네이버/ ) is a Korean-language "Portal" search engine which displays search results in several curated sections on a single screen, such as news, images, video, shopping and advertising websites.
Portal search engines have more in common with content aggregators than they do with pure, organic search engines which allow users more freedom to conduct their own queries and provide a comprehensive list of websites around the globe related to a topic.

Despite Google's best efforts to expand its presence in Korea, NAVER has dominated the country's search engine market for over 16 years and has been used as a benchmark for similar services in many other Asian countries.

If a user conducts a search using a generic keyword, NAVER will return vertical searches (linking to results), related search terms, paid search advertisements (that are clearly distinguished by a coloured background), recently released relevant books, and current, related news topics. The layout of these results changes depending on the query as NAVER is able to recognise entities, brands and trending topics; and pull information from other websites directly into the search engine results page (SERP). The majority of results will be heavily local and the latest content is featured on NAVER's homepage.


The search engine features paid advertisements for websites, brands and original or "power" content based on your search term. It also features advertisements for existing products on NAVER's shopping platform, which are not targeted based on keyword selections but rely on NAVER to automatically place the advertisement depending on the information listed on NAVER Shopping and various other factors, such as user intent and purchasing patterns. Website advertisements appear as text – with the website title, description and display URL – in search results and product pages (NAVER Blog, Café, etc), and on NAVER's search partner sites.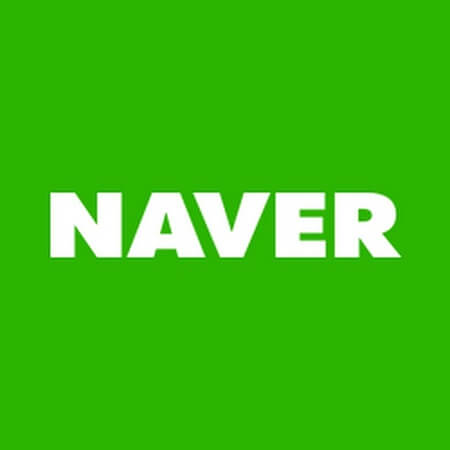 NAVER Products
NAVER has a portfolio of products that work in tandem with its SERPs, including:
NAVER Encyclopaedia:
This is similar to Wikipedia (and considered just as authoritative by NAVER's ranking algorithms) but much less restrictive as it allows users to set up branded pages. On the search engine page, it is displayed as a vertical search result and features results drawn from Wikipedia as well as its own platform.
Knowledge iN:
This product takes data in from a number of sources, including itself, and can appear prominently in search results, especially for searches phrased as a question. It functions in a similar way to Yahoo Q&A and Quora to provide users with answers to interrogative searches. Any user can post a question that other users can help to answer, across a multitude of different topics, and answers can be upvoted (in a similar fashion to a Reddit post) by other Naver users.
NAVER Blogs:
When you set up a NAVER Search Advisor(Webmaster Tools) account, you are automatically given a NAVER blog, which you can use in the same way as you would an externally hosted blog on a platform like WordPress. While NAVER claims that it doesn't discriminate against externally hosted blogs, it's worth noting that the search engine is better at crawling and indexing NAVER blogs.
NAVER Posts:
A stripped-down version of NAVER Blogs. Rather than allowing you to the network by adding "neighbours" and engaging with them (like on NAVER Blogs), it has a "follow" feature and focuses on the writer's expertise on a particular topic.
NAVER Café:
This is a community-based platform, like Reddit or Baidu Tieba, that functions like a message board or forum for members with common interests to share knowledge and engaging in discussion of that topic. Each "café" acts like a Subreddit with a niche focus and opportunity to build a community for information sharing.
Websites:
The website search result shows relevant web pages to the keyword; it looks pretty much the same as a Google search results page. Previously, NAVER had two different sections for website results – "websites", which only showed the root domain, and "webpages", which showed multiple pages from the same website – but they have since integrated the two sections.






NAVER Algorithms and Ranking Factors Guide
NAVER is a content analysing search engine based on big data. It processes and provides extensive search data which is required to process the natural language and computation of the contents of documents, such as similarities between different documents, measuring the quantity of information in documents and extracting representative keywords from documents.
Due to NAVER's high dependence on advertisements, there are definite limitations on the effectiveness of SEO on the search engine. However, many users stay on NAVER due to the power of the content that the search engine possesses, such as the ability to look up, access and share useful, curated content across a multitude of different areas. Global search marketers and SEO-related personnel at corporations in Korea are anticipating further positive changes in the quality of NAVER's search engine as it has begun to offer a useful webmaster tool for SEO.
While NAVER is not yet as highly advanced as Google, it dominates the Korean search engine market due to specialized and localized features, fast-paced updates to its service, and brand loyalty and recognition among Korean customers. NAVER is an important element in digital marketing strategies within Korea and requires the application of unique SEO strategies to reach users. We don't know much about the algorithms that govern the search engine and its rankings. However, three of its search algorithms are known to the public: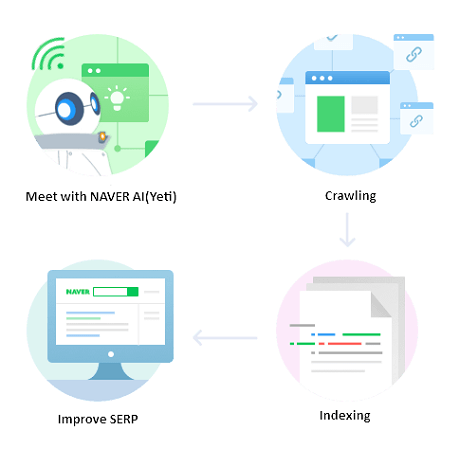 C-Rank:
This uses content, context and chain metrics to rank search results, and identify the authority, popularity, and reliability of user-generated content. The "chain" metric refers to conversion, a marketing term that means how many people have visited your content/page as a measure of popularity. The algorithm determines the authority of each content creator categorizing webpages by thirty-one different types depending on the title tag and the content. NAVER uses deep learning technology to determine different content types but many blogs are not favoured by this algorithm as it prioritizes those with high rates of traffic and gives the top spots in its rankings to those deemed to have the most authority on a specific subject.
P-Rank:
This algorithm uses similar global web standards to those employed by Google, looking at certain search engine optimization (SEO) criteria of a website to determine its quality, and was introduced by NAVER in an attempt to make its organic results higher quality. Using a form of artificial intelligence data processing, this algorithm processes a number of ranking factors to ascertain the quality of a webpage and its relevance to a query. These include website crawlability and accessibility, page optimization and metadata, website structure and internal linking, mobile usability, number and quality of backlinks pointing to a website, and social media signals. Due to NAVER's dependence on paid advertisements, there are definite limitations on the effectiveness of SEO on the search engine, but paying attention to these metrics will help sites rank highly.



Deep Intent Analysis (DIA):
The DIA algorithm looks to identify the user's search intent based on the content they access and reflects this in the search engine rankings. It uses various metrics to measure a user's intent or preference for specific content, including time spent on a web page, the number of shares of a blog, comments, etc. It is unlikely that NAVER will disclose the entirety of the algorithm but the best tactic to keep content ranking high in search results is increasingly creating content that satisfies the user. The DIA algorithm paired with the P-Rank algorithm in particular means that NAVER's search results are showing more similarity to Google's than ever before. Previously, the number one way to rank high in NAVER search results was considered to be up-to-date content, mainly created on NAVER Blog. Now, however, the search engine includes more external content and web pages, and it is necessary to satisfy all three algorithms in order to stay high in NAVER's rankings.