In the first quarter of 2022, Coupang became the most paid e-commerce service in South Korea, surpassing Naver for the first time. Even if it was a small victory, it is a big inflection point for Coupang, which was considered a Startup 10 years ago.
E-commerce Marketshare in 2022
The results were made public on April 12th in Wiseapp, a real-time data-based Market Intelligence service company. According to Wiseapp, which collects payment and sales volume data from retailers, Korean internet users spent 9,622.6 billion dollars on Coupang from January to March of this year. This figure only includes payments made with credit, debit cards, and account transfers. Corporate cards, corporate account transfers, and intercompany transactions were not counted.
The third company listed after Coupang and Naver was Shinsegae, followed by Baedal Minjok and Auction.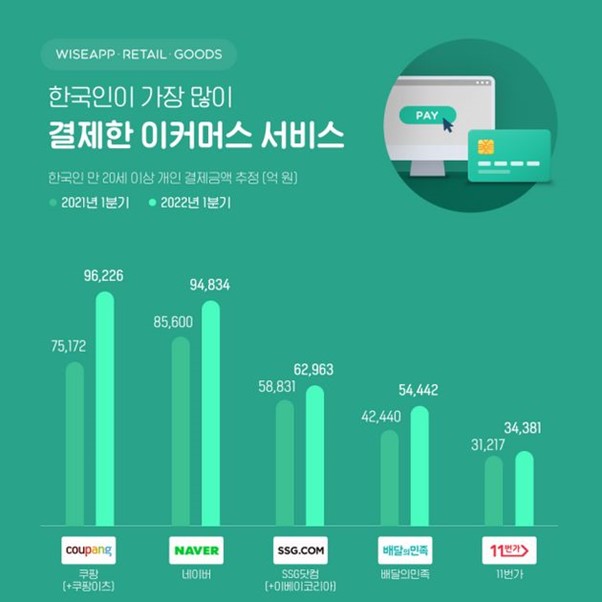 Coupang saw a 28% increase since the first quarter of 2021, passing from 7,517.2 billion won to 9,622.6 billion. It was quite a steeper rise than Naver, which increased by 11%.
The trends in the distribution industry predict that Coupang will continue to expand in the following years, and it is actively investing in logistic centers to consolidate its image as the "Next-day delivery" company.
On the other side, Naver's revenue mainly comes from Naver Store, Naver Webtoon, and Music.
Online Shopping Landscape in South Korea 2022
As InterAd has commented in previous years, the online shopping trend has been thriving since the beginning of Covid-19, having even a bigger impact with the spread of the Omicron variant. According to Yonhap, online shopping in the country rose 13.7% on year in February, led by the demand for food delivery services, electronics goods, and travel services.
In February, the total value of online shopping transactions stood at 15.4 trillion won (US$12.6 billion), compared with the 13.6 trillion won the previous year. As for devices, purchases made through smartphones and tablets rose 20.4% on-year and mobile shopping hit the record of 76.4% of the total value of online shopping.
Sources: Huffingtongpost Kr, Yonhap.