What is Coupang?
Coupang is one of the biggest online marketplaces in South Korea. Founded in 2010 and previously considered a start-up, it is now worth over $9 Billion dollars, and it is also known as the "Korean Amazon".
The company has become quite famous for their "rocket delivery" service, which offers next-day (or even same-day) deliveries. This has helped Coupang to get exponential growth, and in 2021 it has more than 14 million active users. They also take pride in saying that 70% of Korean people live in an area within ten minutes of a Coupang logistic Center.

Introduction to Coupang Ads
If you are a seller in Coupang and you are not advertising, you are missing many opportunities. This is because the online shopping platform really prioritizes paid results over organic both in banner advertisement and as "recommended" products.
By advertising in Coupang, you can increase the exposure of your products on high-traffic pages and increase sales in an effective way. The advertisement system is based on PPC (pay-per-click), so sellers will only pay when the ads are clicked regardless of the exposure.
If you take a deeper look at Coupang website, you will notice that ads are shown on almost every single page and across various touchpoints that can lead to a purchase. There are listing ads on the category pages, banners above search results, and even on the order completion page.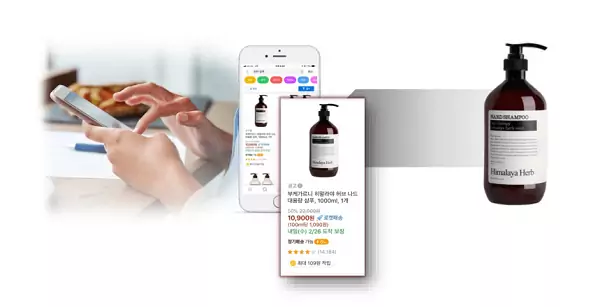 However, since the items are usually very related to the user's search, the advertisements blend quite well with the rest of the products.
Types of Ads in Coupang
Manual Targeting Ads
The old but good manual targeting. With this advertisement type, you can set your own keywords. This is a good option if you already know which specific keywords work best for you or you want to have total control over them.
Auto-targeting ads
This type of ad helps you to reach the maximum expected sales without having to worry about keywords or bids. Coupang algorithm automatically optimizes the advertisement so that you can expect the highest sales. The system finds for you keywords that are highly relevant to your products.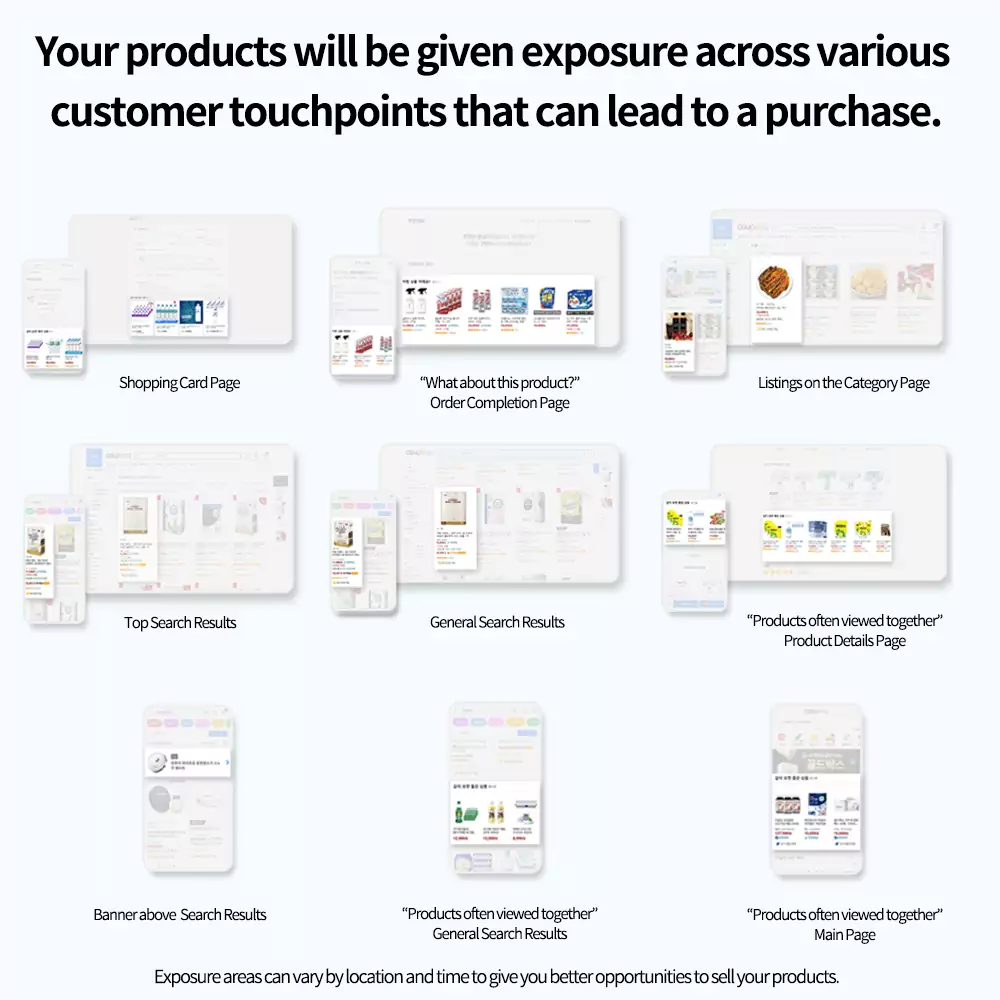 These are the main locations where your ads will be eligible to show.
Main Page Ads
The ads are exposed on Coupang's main page. There are different sections where ads are shown:
• Today's Smart Shopping
• Popular Products
• Recommended products by category
• Line Banner
Search Results Ads
The ads are exposed related products to the searched product. You can find these ads in different locations.
• Top, middle or bottom Banner
• Similar products to compare
• Related recommended products
Category Page Ads
Shopping Cart page Ads
Order completed page Ads.
Strategies for Product Ads in Coupang
When starting to advertise in Coupang, as in other platforms, you need to collect data first to build a good strategy. Coupang recommends advertising as many products as you can so your products can get better exposure and results in shorter time. Once you have collected enough data on impressions, clicks, conversion and advertising cost, you can try to group your items together based on the following criteria:
• Products with high exposure and clicks.
• Products with high conversion rate regardless of impressions.
• Products seldom clicked despite high exposure.
• Products with high or low average PPC.
Now it is time to set different strategies based on these results. For example, for the products with high exposure and clicks, you could try to maximize the ads' exposure because they are highly likely to be purchased.
For the products with a high conversion rate, the best strategy would be to maximize targeted exposure. Refine the keywords you are using, but make sure that they are still getting enough exposure to bring you sales.


The strategies above are great when your items are doing well, but this might not be the case. There are certain ads that hardly get clicked despite high exposure. In this case, the best piece of advice is to make your product more attractive. You can try to edit the description, adding specific information, offer free shipping, changing the pictures, or offering a more competitive price.
As for the last case, a high average cost per click means your ad efficiency is low, and vice-versa. You should particularly focus on those with 'low average CPC and high conversion", as this indicates high profitability, and such products can attract purchases at low cost.
The strategies presented here are one of many campaign optimization methods. A successful advertising strategy is to frequently track ad performance and continue to find better strategies. The more you invest in ads, the better the results.
If after trying these strategies you are still struggling with Coupang Ads, or you need support to start your campaign from the beginning do not hesitate to get in touch with InterAd's professionals.