Why influencer marketing is so popular in South Korea?
Influencer marketing is nothing new in South Korea since Koreans are fashion-forward and have a trend following mentality. Actually, the country is placed in the top 2 of social networking globally (38.4 million people out of 52 million are active users on social networks).
71% of Korean consumers are more likely to purchase based on a social media reference and 86% of women browse on SNS before making a purchase. As for 2020, the influencer market in South Korea has grown up to $10 million according to KOTRA. They also affirmed that the market is getting bigger because Millennials and Z generations spend huge amounts on online shopping.
Best platforms for influencers
The most frequently used social media in South Korea are Youtube, KakaoTalk, and Facebook. However, Facebook and KakaoTalk marketing is usually done through branded content rather than individual influencers. If you are looking for a content creator to help your brand to get better awareness, is better to put the focus on these platforms:
YouTube: It is the Nº1 video platform in Korea with a user base of over 25 million. Doing YouTube marketing in Korean channels can be quite profitable: In 2019, there were 12,000 channels with over 10k subscribers, over 2,000 channels with 100k subscribers and more than 2000 channels with 100k subscribers, and more than 200 channels with 1 million subscribers.
Instagram: In recent years, the popularity of Instagram is growing while the popularity of Facebook is declining, especially among younger users. In 2021, there are 13 million users. Naturally, the rapid growth of this SNS has led to the emergence of thousands of influencers, and many of them have started to promote their own brands.
Naver: The preferred search engine for Korean internet users has a strong focus on user-generated content (USG) along with its properties Naver blog and Naver Café. In 2020, the portal launched an "influencer research" function as part of its efforts to provide a creator-friendly platform. Right now, the function is focused on travel and beauty but will expand to cover other categories.
Top Instagram Influencers in South Korea
As of June 2020, the celebrities with the most followers on Instagram were:
Jennie of Blackpink (27 million followers)
Rosé of Blackpink (24 million followers)
Jisoo of Blackpink (23 million followers)
Chanyeol of EXO (21 million followers)
Sehun of EXO (21 million followers)
G-Dragon of Bigbang (18 million followers)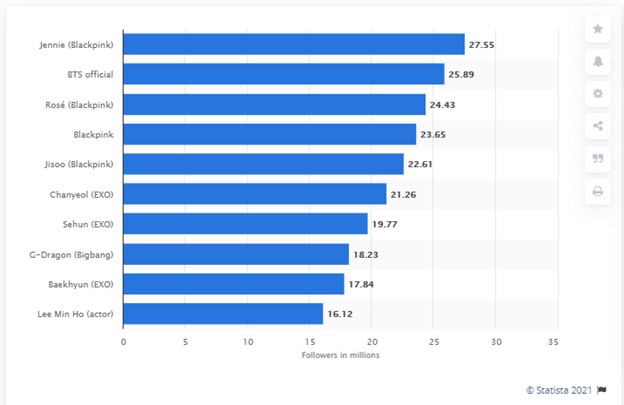 Korean Lifestyle and Fashion Influencers
However, this list is mostly integrated by idols and actors, which are quite difficult to reach for most brands and companies. We have curated a list of Korean non-idol influencers, mainly focused on fashion and beauty that you can follow or contact for collaboration.
Ehwa Kim
@kimehwa
Followers: 548k
A fashion influencer with a casual style followed mainly by young females. Kim Ewha has developed a cute and joyful personal brand and currently runs a female clothing brand company with her sister.
Park Sora
@sora_pppp
Followers: 1M
Park Sora is a Stylenanda and 3CE ambassador, and a popular face in the Korean influencer community. She has a feminine chic style and prefers wearing monotone clothes.
Su-min Nam
@suminzz
Followers: 595k
Another popular fashion and lifestyle influencer, who also owns her own fashion store in Café 24.
Bora Kim
Followers: 744k
Korean model based in Seoul. She posts about beauty, travel, and lifestyle. Se also has a YouTube channel where she uploads videos on a monthly basis.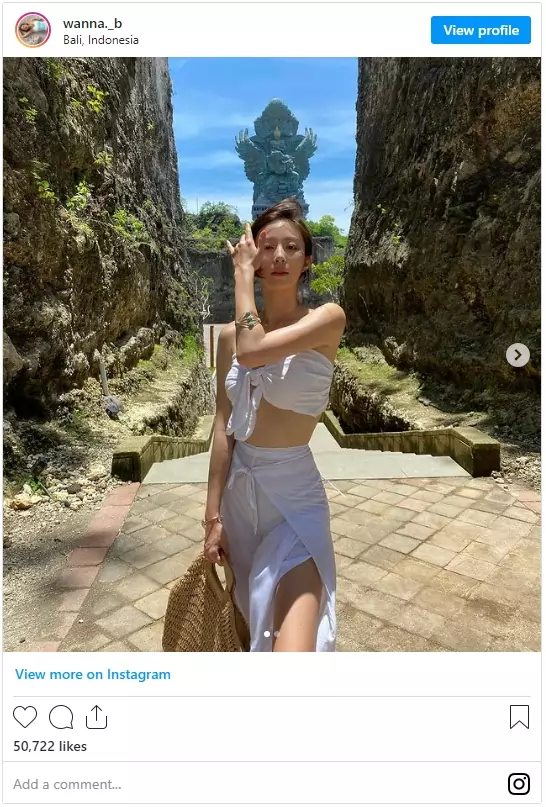 Lee Ho-Jung
@holly608
Followers: 422k
Korean fashion influencer who has appeared in some dramas and music videos. However, her main focus is on the fashion industry and she is one of the top k-fashion influencers in Korea.
Irene Kim
@ireneisgood
Followers: 1.9M
Irene is a popular model and Korean American instagrammer that travels de world from fashion show to fashion show. She is girly, has a fun style and has no fear to experiment.
Jeong-ah Kim
@94_j.a
Followers: 509K
Jeong-ah Kim has a young and playful style and amazing makeup skills that make her look like a doll. She has a strong preference for pastel tones and beauty products.
Eudeum Shim
@euddeume_
Followers: 429K
Pilates instructor and YouTube creator, Eudeum Shim helps you to have a better lifestyle and look great along the way.
Tips for your influencer campaign
Many Korean influencers, especially on Instagram can be approached directly or through influencer marketing platforms. In them, you can search for influencers depending on their age, gender, number of followers, and posting categories. When you start looking for an influencer for your brand, keep in mind some tips to succeed in your election:
Audit the influencer profile: many influencers have bought fake followers to get better deals with brands, which might end up resulting in poor performance. Partner with an influencer agency that has the technology to undercover fake followers and predicts engagement rates. Also, it is important to get clear statistics of their audiences, since Korean influencers are usually followed by users from other countries (Indonesia, Taiwan, Thailand)…
Be transparent in your sponsorships: starting on September 1 of 2020, influencers that partner with companies must clarify the fact that they are being paid to promote a specific product. The Fair Trade Commission made this decision because influencers have increasingly deceived users on YouTube and Instagram by pretending to have bought and used products without having done so.
Analyze their content: Every influencer has a unique style and focuses on different themes. Take your time to scroll their feeds and identify the ones that better fit your business before going for a partnership.