Social Media in South Korea in 2023
South Korea is a country known for its rapid adoption of technological advances, and its high usage of social media and mobile internet. With its advanced internet infrastructure, South Korea has the highest average internet speed in the world and an internet adoption rate of 98%, making it an attractive market for foreign companies looking to expand their businesses. According to Datareportal, at the beginning of 2023, there were 50.56 million internet users in South Korea with an internet penetration of 97.6% of the total population at the beginning of the year.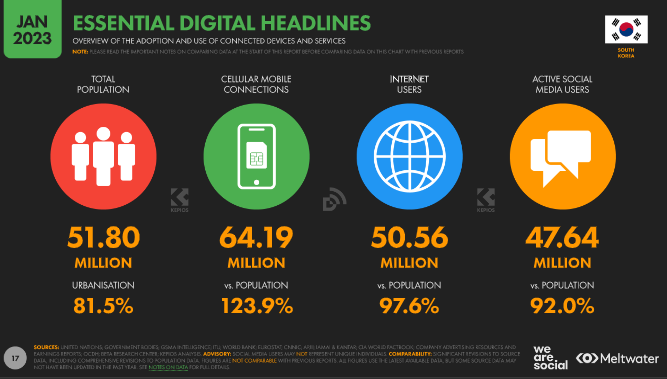 Korean Social Media Statistics Overview
With such a well-connected population, we would expect to see high engagement with social media platforms, and that is certainly the case. As of February 2023, there were 47.87 million social media users in South Korea, an increase of 1.1 million (+2.3%) from 2022. This represents 92% of the country's population. On average, South Koreans spend 1 hour and 11 minutes a day on social media, using 4.5 different platforms. Women and men both represent 50% of the users.
The main reasons why Koreans use social media are the following:
Keeping in touch with friends and family (29%)

Filling spare time (24.7%)

Finding content (23.2%)

Seeing what's being talked about (20%)

Reading news stories (16.2%)

Posting about their life (13.8%)

Finding products to purchase (13%)
Most Popular Social Media Platforms in South Korea
South Korea has several social media platforms that may not be familiar to people outside the country, alongside the more commonly used platforms like Instagram, TikTok, and Facebook.
Among the country's owned platforms Kakaotalk stands out with a total of 47.64 monthly active users. KakaoTalk is a messaging app similar to WhatsApp, which South Koreans primarily use to stay in touch with family and friends and it is the preferred app by 58.3% of the surveyed population. Koreans spend an average of 10 hours and 54 min per month on the platform, mainly texting with family and friends or reading news.
With so many users, Kakao has become a great channel for brands to communicate with consumers, both via Kakao display ads and Kakao channel.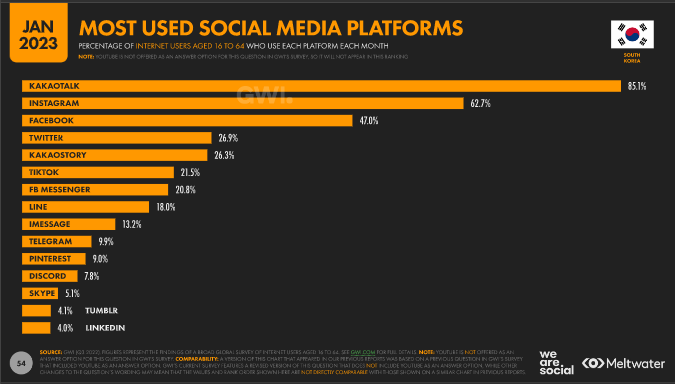 Instagram is growing rapidly, especially since younger generations prefer short-form content and a minimalist layout. It is used by 62.7% of internet users and it is the app of choice by 18% of them. Users spend around 6 hours per month on average scrolling on the platform, 5.2% more than last year.
With 19.25 active monthly users, Instagram is still a growing platform where advertisers can easily find their target audiences among the youth.
Another steeply growing platform is TikTok. In 2023 counts 5.66 million users (age 18+), representing 10.9% of the total population. It might not seem very impressive compared with other platforms, but user retention is quite high. Users in TikTok spend an average of 19 Hours and 54 mins per month watching short-form videos (17.8% more than in 2022). This means that depending on your sector you might want to include TikTok marketing to your strategy in the country.
In recent years, Facebook has been experimenting a decline in popularity and it is only preferred by 4.9% of users. The total potential reach of ads on Facebook is 9.60 million, 1.1 million less than the previous year and 10 less than Instagram.
Despite the large number of qualified professionals in the country, LinkedIn is not a popular social media in the country of The Morning Calm. LinkedIn has around 3.50 million users in early 2023, a 3,000 increment from the previous year.
Lastly, Twitter resources indicate that the micro-blogging platform has 9.8 million users at the beginning of the year, by 68.6% of them female.
YouTube, the King of Content
Perhaps you were wondering about YouTube? This social media app is so influential in South Korea that it deserved its own section. With a potential reach of 46 million users (91%), YouTube is the king of the game. YouTube users spend an average of 40 hours per month watching content. The favorite topics on the platform are:
Music

Mukbang

ASMR

Movies

Noraebang (Karaoke)

Vlogs

News

Dramas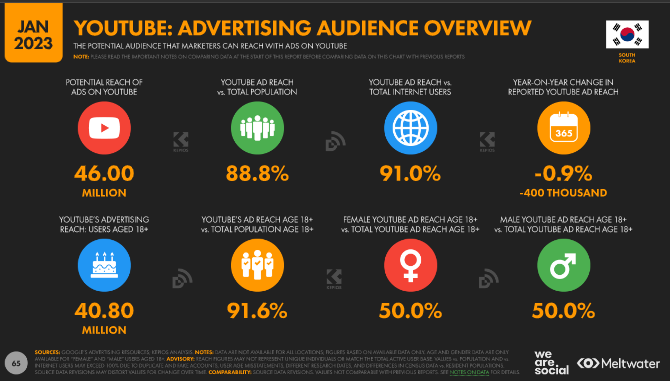 According to Reuters, YouTube in Korea is being increasingly used for consuming news since 2016, and this partly explains the surge in social media use. Koreans tend to see the video platform as a more authentic source than mainstream media, which is viewed as biased.
Other platforms
South Korea's most popular search engine, NAVER, has a variety of different products on offer, including a communication app for teams and groups called BAND. BAND was originally marketed as a business tool, similar to Slack, but became popular in South Korea through the gaming community, which used it as a way to communicate online when playing games in teams. South Korea's love of social media can be traced back to Cyworld, which was created in 1999, long before Facebook and Twitter. Cyworld was the first major social media network and a huge hit in South Korea. One of its unique features was the ability for users to organize, manage, and prioritize their relationships according to a hierarchy consisting of three different "ranks," matching the structure of Korean society.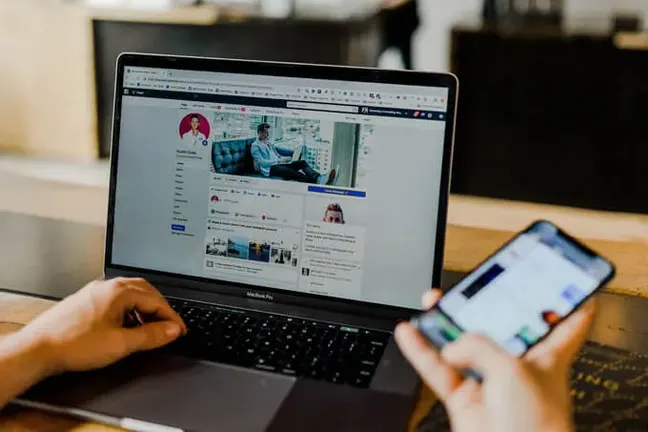 The Future of Social Media in South Korea
As the popularity of social media in South Korea continues to grow, companies are investing more in online marketing services to target this market. Social media has become a crucial channel for companies to reach customers in South Korea, with Instagram and Facebook ads being particularly popular. As South Korea continues to lead the world in terms of internet connectivity and mobile adoption, the country is likely to remain an attractive market.
Updated: March 14. 2023