YouTube Video Marketing in South Korea
Have you ever considered doing YouTube Marketing in South Korea? If you are doing business in the country but never considered it, you should! And here is why.
If you ever wondered which is the favorite Social Media Platform among Korean people, the answer is without any doubt YouTube. The video platform has penetrated the market quite heavily in recent years, especially among older, non-millennial users.
According to Reuters, YouTube in Korea is being increasingly used for consuming news since 2016, and this partly explains the surge in social media use. Koreans tend to see YouTube as a more authentic source than mainstream media, which are viewed as biased. At the end of 2019, YouTube had nearly 34 million Android users, 38% more than in 2016. And surprisingly, YouTube is even more used than the main chatting App among Korean people, Kakao Talk.

The data doesn't lie. Last year there were over 12,000 channels with over 10k subscribers, over 2,000 channels with 100k subscribers and more than 2000 channels with 100k subscribers and more than 200 channels with 1 million subscribers in South Korea (Source: TechCrunch).
"YouTube Creators" is nowadays a trendy career path for young people who are struggling to get corporative jobs in a highly competitive job market, and has been picked as 1 of the 5 top professions for elementary school kids. With so many local players creating and consuming content, the total number of video hours uploaded has grown quickly, and so, the opportunities for advertisers.
Influencer Marketing on YouTube
Influencer Marketing can be found everywhere on Korean YouTube Channels. Not only big brands but small business, like restaurants or online retail stores are seeking the right influencer to promote their brands. Korean YouTube channel categories are diverse, and popular content includes a wide range of topics such as ASMR, mukbang, lifestyle, toy review and tutorials.
Partnerships with a YouTube creators that matches your brand's image is the most effective marketing that you can do on YouTube, since South Korea is a trend-driven society. Korean people are always seeking innovation and YouTubers have a high influence on viewers' purchase decisions.
Top Korean YouTube Channel Categories: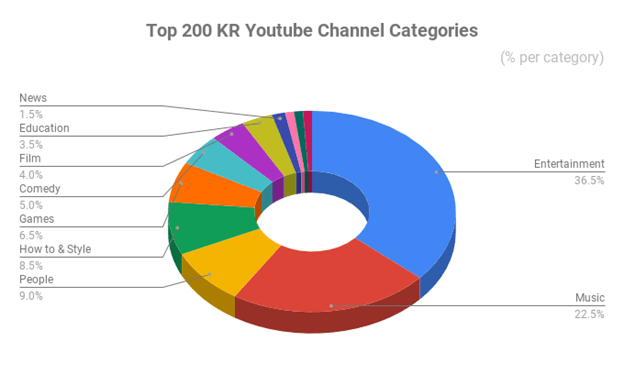 As for 2020, these are the biggest Korean YouTubers:
보람튜브

BoramTube (23 million subscribers): Vlogs, candy and toy reviews.
JFlaMusic (14.5 million subscribers): song covers.
Twinrrozi (7.3 million subscribers): mukbang, food and candy reviews.
Pony Syndrome (5.4 million subscribers): makeup tutorias and vlogs.
Jane ASMR (5.6 million subscribers): ASMR and eating show.
However, due to some controversies about the lack of regulation on sponsored content, South Korea's Fair Trade Commission introduced new rules on September 1 of 2020. From now on, advertisements must be clearly disclosed and ambiguous terms such as "in collaboration with" or "thanks to…" are banned. According to the Fair Trade Commission, this new regulation will help YouTubers to develop trusty relationships with their viewers.
YouTube Ads – Video Paid Advertisement in Korea
Paid Ads on YouTube are also a big opportunity for marketers. Overall, viewers pay more attention when watching YouTube ads versus TV commercials, and they are 1.7X more likely to engage with them. After ad exposure, 63% of Koreans search for related information on the brand, which is great news for marketers. When Korean people want something, they act quickly.
One recommendation when doing YouTube Ads is to pay attention to your creative. Korean video Ads have a unique style and are tailored to local consumers. Celebrities, catchy songs, weird humor and vivid colors are frequently found on ads, which might seem odd in western countries. Making a market research on the industry before you prepare your pieces of content can really make the difference.
As for October 2020, these are the most popular YouTube Video Ads in Korea according to Google:
1. Bumper Ads: Spicy Ramen by Nongshim
2. Skippable Ads: Your Health Partner by Samsung Insurances (Full Ver.)
3. Skippable Ads: Checks Choco by Kellogg
Recommendations for Brands
Watch Out for the trends: Recently, due to Covid-19, trends on YouTube has been changing to adapt to the necessities of the viewers. Content about health, experience new things safely and connecting with people is on the rise. Some examples are the growth in channels related to finances and investments, camping or "Chabak" (sleeping in the car) and online party games such as Among Us.


Upgrade your SEO game: With so many people actively looking for content, improving your YouTube SEO Strategy could raise your views and exposure in unimaginable ways.


TV+YouTube for coverage: Advertising on YouTube and TV could raise your Reach to 70%. Although a Case Study made by P&G in Korea detected that the cost of Unique Reach on YouTube was 2.5 times less than the cost of the TV campaign.


Related Topics
Korean Digital Marketing Strategies for Content Marketing 2021
Korean Search Engine Market Share in 2021
Social Media Usage in South Korea